Car hire cons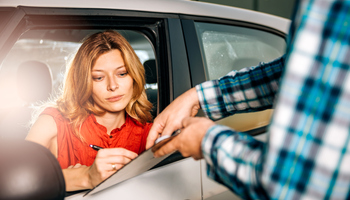 28/06/17 Hired a car? All good, nice and happy... Till you hand back the keys...
If you've seen the news this week, you'll have noticed there's a big scandal around car hire companies, their charges and the dodgy practices of some of them – particularly when you hire a car abroad.
Here at Resolver, we've thought some car hire companies have been getting away with murder for too long. So to save you from being conned when you hire a car on holiday, here's a short guide to how it works, the tricks to watch out for and how to avoid getting 'excessively' ripped-off.
Car hire condensed
Travelling abroad can be stressful. You've made it to the airport, survived security, spent a fortune on a sandwich and made it through the flight without killing your fellow passengers/family/partner. Finally, you make it through customers for the last part of the endurance test. Getting to your destination.
Hiring a car is a great idea if you've got a family, are going off the beaten track or just have an adventurous spirit. Car hire is big business, so the companies can seem reassuring. There are some big players in the car hire field, with many names you'll recognise from your local high street.
But beware. There's countless ways you can get ripped off by car hire companies. We'll take a look at them in a moment but here's the secret charges you need to watch out for.
Excessive charges
The excess fee. This is the big one! An excess fee is what you pay out of your own pocket if you need to make a claim. These can be extortionate with many ranging from 500 GBP to 1,000 GBP and beyond. This becomes an issue if the firm claims the vehicle is damaged and they need to carry out repairs – which you then pay the excess fee on. Bear in mind that you are not the insured party – the car hire company is.
Zero excess fee insurance. Yes, you heard that right. You can buy insurance to cover you for the excess fee just in case you are billed for damage. Much as it pains us to say it, we'd recommend taking this out. For round about a tenner, you could save yourself a fortune if a problem arises. But don't take it from the car hire company – shop around online first and bag a bargain.
Collision damage waiver. This is the part of the contract that covers what will be paid out if the car collides with something or is hit by another driver. In recent years, many car hire companies haven't been entering in to the spirit of 'no fault' collisions and despite how these clauses are worded, they are by no means comprehensive and don't include things like towing the vehicle and many types of accident. We've seen excess fees of over 1,500 GBP for a written off car.
Fuel bills. Fuel to empty is where you pay a (hefty) sum for a full tank then return the car with an almost empty tank. This is often applied without choice, so it's a real con. Full to full policies are available, where you don't pay the premium for the refilling costs but check this before you sign up.
Credit cards. You'll need a credit card to hire a car abroad and you'll have to have a couple of grand in credit on it ideally or you won't get the vehicle. Why? Because the firm will 'check' to see you have the money on the card and often will freeze it so you can't use it while you're away. This is to cover the excess fees in case they decide to charge you them. Which is outrageous. Remember that you can make complaints about your UK based credit card provider through Resolver.
Upgrades. We all love an upgrade, but be wary. That better model car might seem like a steal when they offer it to you at the desk, but watch out for hidden costs or changes to the T&Cs and excess fees. Remember, the firm makes money out of you for every repair it 'has' to make – so be sceptical.
The cons making the news
We've been working with consumer rights experts in Europe and in the media on identifying car hire cons and the good news is the industry is really under serious investigation. There isn't an ombudsman for car hire abroad (or in the UK) but individual contrives have their own schemes if something goes wrong. If the car hire company has a UK office, we'd recommend making a complaint through Resolver anyway, even if they argue that it's not the UK company's problem. There's no rule stopping them from acting with their counterpart in another country, so force the issue.
The biggest car hire scam is unnecessary repairs. Ask around and we're pretty sure you'll find someone who has been stitched up by this. When you return the car, the company will log a minor scratch on the sign off documentation, then inform you (often long after you've left) that an entire bumper/panel/car part needs replacing. The bill will be way over your excess fee, which will be debited automatically from your card. Nightmare. This is why it's so important to keep detailed records of the car before and after and documentation (check out our tips below).
High pressure sales at the check in desk are a big problem too. You're tired kept standing and you just want to be on your way. Do your research in advance, read the documents before you get to the venue, buy a competitive zero excess policy and don't let them flog you anything else.
We've also recently discovered that one of the big car hire companies has been charging people for excess fees for repairs that they never carried out. This is nothing short of fraud and outrageous. A few newspapers are investigating this story so If you've been affected, watch this space. And always keep your documents – you never know.
Our tips to avoid being conned when hiring a car abroad
Book in advance, shop around and read all the documents before you travel.
Check the excess fees – the higher they are, the riskier it is to take the contract.
Consider buying a zero-excess policy. Yes, we know you shouldn't have to but it's worth it. And don't believe the car hire firm tales of massive delays in paying out on rival policies – it's rubbish.
Ask about the deposit. If the firm 'ring-fences' a deposit, you can't spend that money. If they debit your card and refund you on return find out how long it takes for the credit to come back and if you can pay in pounds so you don't lose out on exchange rates.
Photograph the car from all angles. Be pushy. A representative from the firm will sign the car out with you. Make sure they write down every mark or scuff on their documents and photo the car from all angles too (check to boot). Do the same when you return the car and make sure that you have agreed with everything on the documents.
Keep all the paperwork and receipts for things like petrol.
Factor in additional costs. Child seats, extra drivers, valeting, all can add up.
If you are in an accident, call the police and get copies of all documentation. Make sure you've checked with the hire firm what their procedures are too.
If you follow those tips, you should have a pain-free holiday. But if something goes wrong you still have rights. For example, you can:
Complain to the car hire firm through Resolver
Send them a message on social media – that'll grab their attention!
If you have a UK based zero excess policy you can complain through Resolver to the financial ombudsman.
The same goes for disputes on credit cards.
We're currently arguing for better support for drivers abroad who hire cars, so we'd love to hear your stories if you've been caught out by a car hire con. So get in touch!
Who do you have an issue with?
Raise it for free via Resolver