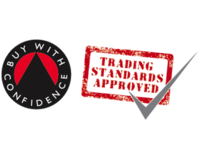 Buy With Confidence
---
Resolver is not affiliated to, linked with or otherwise endorsed by Buy With Confidence .
We are an entirely independent issue-resolution tool that enables the raising and handling of consumer issues, making complaining simpler for everyone.
Before using Resolver...
Speak to the company

Give them a chance to rectify your issues before using a formal issue-resolution process

Get all the information to hand

Make sure you have everything you need to effectively and concisely raise your issue

Know your consumer rights

Resolver has researched your rights so you know what sort of redress you can expect
Be clear in your communication

State all the facts as simply as possible

Be reasonable in your approach

Your expectations should be proportionate to the issue you have experienced
If you have an issue with a Buy With Confidence Member
In response to concerns about 'rogue traders' which are often highlighted in the media, a partnership of Local Authority Trading Standards Services developed the Buy With Confidence Scheme. The scheme provides a list of local businesses which have given their commitment to trading fairly. Every business listed has undergone a series of detailed checks before being approved as a member of the scheme.
The Buy With Confidence scheme is administered by Local Authority Trading Standards Services directly, and is not outsourced.
All the businesses on the scheme have been vetted and approved and continue to be monitored by professionally qualified Trading Standards Officers to help ensure you will receive a quality service and to maintain the integrity of the scheme.
If you have a complaint about a Buy With Confidence member
All Buy With Confidence members have made a commitment to trading in a fair, honest and legal manner with customer friendly service as a priority. However, we appreciate that very occasionally things may go wrong and your experience may give rise to a complaint.
The first thing that you need to do is raise your concerns with the business and give them the opportunity to put things right.
If you have done this and not reached a satisfactory resolution, you can raise your complaint with Buy With Confidence and it will be assessed by a Trading Standards Officer, who will offer informal mediation to try and help resolve your problem.
This service is free of charge.
Advice on your legal rights
If you require advice on your legal rights regarding your contract with a member business, please contact the Citizens Advice Consumer Helpline on 03454 040506 – your enquiry can be viewed by Trading Standards.
Using Resolver, you can submit complaints for 4780 services offered by members of Buy With Confidence . Your complaint will be sent to the correct person or team within the company before being escalated to Buy With Confidence after an appropriate amount of time.