Resolver Recognised
Helping you find the best companies for customer resolution and service
There are many reasons why you choose to give your hard-earned money to a particular company, but when things go wrong you want to be sure that a company will put things right and provide great service throughout the process. And you're not alone.
In a survey of Resolver users*:
Three quarters said a reputation for putting things right is a very important influence on their perception of a company or brand.
Resolver helps you understand which companies are best placed to help you put things right. By using the feedback of customers like you, we provide the most comprehensive, independent guide to those companies delivering the best customer resolution and service among their competitors.
What is Resolver Recognised?
Resolver Recognised is there to help you. It is a seal of approval for those companies that, according to their own customers, truly care about putting things right when they go wrong and doing so in a way that satisfies their customers.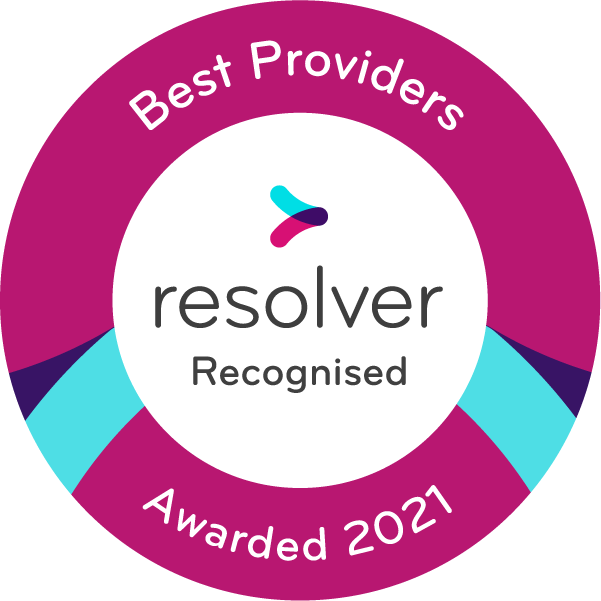 Our Resolver Rating ranks companies based on how they're dealing with their customers' complaints, and the measures we use are those that matter to you. For each sector we assess, the Resolver Rating is made up of seven different measures of complaints resolution and service, which each individually assess how a company ranks against all other companies represented in our dataset.
How does this help me?
When you see a company with a Resolver Recognised logo, you can be confident that they take care of their customers by working to put things right when they go wrong.
Look out for the companies that display the Resolver Recognised badge themselves and across our site if you want to be certain you're picking a company that cares about its customers. You can be sure these companies have passed our rigorous checks and assessments to qualify, and have proven time and again that they really try to help you on those occasions when things do go wrong.
How does a company become Resolver Recognised?
Consumers submit around one million complaints to companies through Resolver every year. We analyse their feedback on the outcomes of those complaints for companies in sectors such as retail, telecoms, energy and banks (among many others).
Put simply, based on our analysis of data and direct customer feedback, if a company has been performing highly against others in its sector, and that relative performance is consistent, it can qualify to be Resolver Recognised.
Resolver Recognised is independent and impartial. Only those that qualify against these checks are eligible to become Resolver Recognised. What's more, we continually assess this performance to ensure companies remain eligible to display the Resolver Recognised badge.
For 2021, we have updated our Resolver Recognised methodology and badges as part of our commitment to continuously improve our services to meet the needs of consumers. There will be little impact on individuals - apart from the number-crunchers on our data team - though eagle-eyed consumers will notice some small differences between our 2020 articles and those published throughout this year.
Our latest Resolver Recognised news
For companies
In a recent customer survey* around three quarters of Resolver users said a reputation for putting things right is a very important influence on their perception of a company or brand.
A further three fifths say they would be significantly more likely to choose a provider if it had been endorsed by Resolver as excellent at handling and resolving customer issues.
Current Resolver Recognised companies include Shell Energy and Monzo.
Contact us to find out how you can boost your customers' trust and to see if you qualify to be Resolver Recognised.
*Based on a Resolver customer survey of 286 users in November 2020
Who do you have an issue with?
Raise it for free via Resolver