Resolver Recognised
Helping you to see which companies are best for customer service
There are many reasons why you choose to give your hard-earned money to a particular company, but when things go wrong you want to be sure that you'll receive great customer service. And you're not alone.
A survey of Resolver users this year found*:
91% said customer service was important to them when selecting which company to use;
73% said they research a company's reputation for customer service before they decide to use it.
Resolver can help by using the feedback of customers like you to provide the most comprehensive, independent guide to those companies delivering excellent customer service.
What is Resolver Recognised?
Resolver Recognised is there to help you - the scheme is a seal of approval for those companies that, according to their own customers, truly care about top class customer service.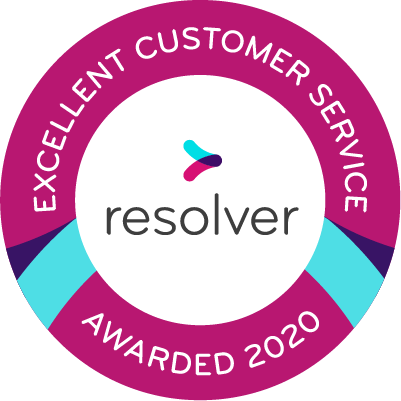 We constantly analyse our direct customer feedback over the last 12 months (to ensure it's always up-to-date) on the cases customers close, and independently assess measurements such as response times and resolution rates. This assesses and ranks companies based on how they're dealing with their customers, and we make sure the measures we use are those that matter to you.
How does this help me?
Look out for the companies that display the Resolver Recognised badge themselves and across our site if you want to be certain you're picking a company that cares about its customers. You can be sure these companies have passed our rigorous checks and assessments to qualify, and have proven time and again that they really try to help you on those occasions when things do go wrong.
Resolver has already highlighted companies that are eligible for Resolver Recognised status so take a look at which shops, banks, energy and telecoms providers qualify.
How does a company become Resolver Recognised?
Consumers submit more than 2,000,000 complaints to companies via Resolver every year. We analyse their feedback on the outcomes of those complaints for companies in sectors such as retail, telecoms, energy and banks (among many others).
Put simply, based on our analysis of data and direct customer feedback, if a company has been performing highly against others in its business area, and that performance is consistent, it can qualify to be Resolver Recognised.
Resolver Recognised is independent and impartial and only those that qualify against these checks are eligible to become Resolver Recognised. What's more, we continually assess this performance to ensure companies remain eligible to display the Resolver Recognised badge.
For companies
In a recent customer survey*, 77% of consumers said they would be influenced to use a company if it was Resolver Recognised for customer service excellence.
To find out how you can boost your customers' trust and to see if you qualify to be Resolver Recognised contact us to find out how Resolver Recognised can help your business.
*Based on a Resolver customer survey of 966 users in July 2020
Who do you have an issue with?
Raise it for free via Resolver