Save your ATM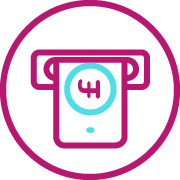 Free cashpoints are vanishing from your high street.
If you're worried about being charged for withdrawals, we want to hear from you.
---
The campaign
Thousands of cash machines have already started to charge fees.
We know that every £ makes a difference.
That's why we're joining the campaign against consumers being hit with hefty fees to access their own cash.
Which? research has already identified over 200 communities in the UK with few or no cash machines.
We want to hear from anyone who's worried about losing their free, local cashpoints.
Wherever you live in the UK, your voice will make a difference.
Who do you have an issue with?
Raise it for free via Resolver