Worried about a private parking ticket? Not sure if you should pay? We have put together this handy guide on private parking tickets for you.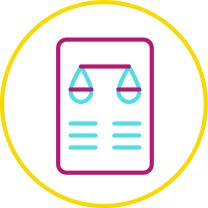 Your rights
Private car parks use parking tickets as a way of enforcing their terms and conditions. Sometimes a parking ticket issued by a private parking firm may seem unfair! If that's the case, you may be able to challenge the ticket.
In this guide, we'll run you through your rights and explain what you can do to launch an appeal.
The majority of your rights come from the Protection of Freedoms Act 2012 (POFA) and, in some cases, trade association codes.
POFA sets out rules around when and how private parking firms should contact you.
It also prohibits clamping on private land!
Many private parking firms are members of Accredited Trade Associations (ATA). These organisations will have a code of practice that parking firms must stick to.
The British Parking Association (BPA) and the International Parking Community (IPC) are the main UK trade bodies.
Firms have to be a member of an ATA to access DVLA data. This means that they may not be able to get your details to pursue a parking charge against you if they're not a member.
There isn't an independent appeals body for non-ATA parking firms. This can make it difficult to contest a parking charge with these firms.
---
Do I have to pay private parking tickets?
If you think the ticket is unfair, then you may not have to pay! You need to take action to prove the ticket was unfair – don't just hope the ticket will disappear!
If you think your ticket was issued unfairly, Resolver can help you submit your appeal for free.
If you think the ticket may be legitimate, be aware that your best course of action may be to simply pay the fine.
---
How do I know if my parking ticket is from a private parking firm?
Private parking tickets often look very similar to council parking fines. However, there is one significant difference – if your ticket was issued by the council, it will typically be called a Penalty Charge Notice. If it's called anything different (examples include "Parking Ticket Notice"), it was most likely issued by a private parking firm.
These tickets may look practically identical to an official fixed penalty, but they're not. They're actually a notice that you've breached a parking firm's terms and conditions. The "fine" is actually an offer of settlement to cover damages . If in doubt, read through the entire ticket – it will say which organisation issued it. If you're now certain the ticket was issued by a private firm, read on!
How do I know if my ticket is unfair?
Normally a car park will have signs that explain the terms and conditions for parking on the land. If you park on land clearly marked by one of these signs, you are usually seen as having accepted the terms and conditions. However, unclear or concealed signs may mean that your ticket is unfair!
In cases where the ticket includes a demand for an amount over £100, the ticket may be considered unfair. You'd need to demonstrate that the amount being charged is far beyond what is reasonable, which can be tricky. If, for example, you overstayed by 5 minutes in a car park charging £20, a ticket for £200 could be considered unreasonable. In these cases, this could be reasonable grounds for appeal if the private parking firm is an Accredited Trade Association (ATA) member. Be aware that companies may involve a debt collection agency, who may add on fees to cover the costs of reclaiming the debt from you.
Is there a time limit on when private parking firms can give me a ticket?
The short answer is yes!
You should expect a private parking firm to fix a notice to your car before you leave the car park and then post you a follow-up within about 2 months.
If the parking firm has to get your details from the DVLA to send you a ticket by post alone, they have to send it within 14 days.
Outside of the Protection of Freedoms Act, the parking firm should give you sufficient opportunity to appeal. If the parking firm sends you a ticket four months after the incident, for example, you'd most likely be able to argue that this is unfair.
In cases such as these, you should use Resolver to contact the parking firm and appeal the ticket. If they reject the appeal, you should contact either POPLA or IPC (depending on which ATA the firm belongs to).
---
Are private parking firms allowed to clamp or remove my car?
No, they're not! It is an offence for most organisations in the private sector to clamp or remove your car without your consent. This means that the only organisations that can clamp or remove your car are ones with legal powers to do so (such as the police).
There are a few exceptions. Airports, ports and some railway car parks may still give private landholders the right to clamp or remove your vehicle.
---
My ticket says to check online or by phone to see if I've broken the rules.
This is called 'soft ticketing' and it's now forbidden under the BPA's code of practice.
Soft ticketing is where a parking firm puts a notice on your vehicle that says to check online or by phone to see if you've been ticketed.
If you encounter a BPA member running one of these systems, it's really important you make a complaint via Resolver and (if necessary) escalate it to the BPA.
They consider these systems to be a serious breach of their Code.
---
I made a mistake when paying by phone/online/Pay and Display.
The BPA's new Code of Conduct says that if you make a mistake when paying by phone, online or via Pay and Display, you should expect a parking firm to sort things out at the first appeal stage.
The code says that firms may try to charge you a 'modest' fee of no more than £20 to cover their costs, but says that it should revert to the charge amount if you appeal.
---
Who are these private parking firms?
Euro Car Parks, NCP, Britannia Parking Group, ParkingEye and Saba Parking are among the biggest private parking firms operating in the UK. Resolver can help you get your appeal to the right organisation by guiding you through the process and delivering your appeal/challenge to the right contact for free.
---
What should I do?
Gather evidence
Try not to leave the car park without taking photos! Make certain you get photographs of any pay and display signs, where your car was parked (making certain your license plate is clearly visible), road markings, and any receipts issued by the private parking firm.
If necessary, try to find any witnesses who might be able to provide further information.
If the parking ticket was sent to your home, go back to the car park as soon as possible to gather evidence!
Appeal
If you decide to appeal, it's important to act quickly – Resolver can help you put together your appeal and guide you from start to finish.
Speak to the landowner
Private parking firms typically work for a landowner, which could be a supermarket, hospital, retailer, or similar organisation. In some circumstances, the landowner may be able to suspend your ticket.
This can be very helpful in getting incorrectly issued tickets sorted.
Contact the private parking firm
Get in touch with the firm to let them know that you're going to formally complain and that they should suspend charges. Don't avoid them! Private parking firms have been known to increase their charges if you don't tackle the charges head-on.
You should never hope a ticket will disappear! Talking with the private parking firm is the first step towards successfully resolving the issue.
Check if the parking company is an accredited trade association (ATA) member
Make certain to check that the company is accredited. Companies which are not accredited by either the British Parking Association (BPA) or the International Parking Community (IPC) can't take you to court by getting your details from the DVLA. See if the company is listed by the BPA as an accredited company on BPA website or IPC accredited companies on IPC website. If a non-ATA member sends you a ticket, contact Action Fraud.
If you live in Scotland, you may be sent a ticket if you are the registered keeper of a vehicle considered to be in breach of the terms and conditions of a private parking firm. There is, however, no law that holds you responsible for identifying the driver of the car if you were not driving it at the time it was parked. Any court action raised by the private parking firm as a result of this can be defended.
---
Private parking tickets appeal tool
Helping you with Private parking tickets services
You can raise issues with 50 companies in Private parking tickets services
Key companies include:
---
Key companies include: