If you've had problems with your mobile phone or mobile contract, you may be due some money back.
Find out about your rights and use Resolver to submit your claim for free.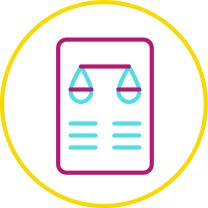 Your rights
When it comes to mobile phone contracts or pay-as-you-go mobiles, your consumer rights come from two main places.
If you're dealing with a damaged phone or want to cancel your contract, your rights will come from the Consumer Rights Act and the Consumer Contracts Regulations.
The Consumer Rights Act sets out the way you should expect to be treated by a company when you buy their products or services. This includes mobile phones!
The rest of your rights come from the Consumer Contract Regulations. These set out what you should expect from a contract for a service – and give you rules for cancelling a contract if it doesn't deliver.
Worried about cancellation fees or confused about your data plan? Read on to find out exactly how your rights work on a day-to-day basis.
---
Contracts
I'm being charged more than I was told I would!
Mobile providers should make any costs clear to you at the point of sale. If you feel they have not done this, you may be able to make a claim! If you feel that you've been misled, you should consider launching an appeal using Resolver.
First, request copies of any recorded conversations you've had with your mobile provider. This will give you the evidence that you'll need.
Always ask for your offers in writing.
Some mobile providers contract out phone sales to third-party sales teams.
These sales teams may not always give accurate information about the contract!
My contract has gotten more expensive mid-contract!
If you find that your mobile contract has suddenly gotten more expensive, you might want to leave it!
The thing is, if you're within your contract's minimum term, you won't be able to leave without incurring charges.
Mobile contracts often have price changes written into them.
These normally account for inflation.
But some companies say that the cost of your contract may increase above the national rate of inflation
If this is the case, you might not have grounds to cancel your contract.
I want to cancel my contract!
If you want to cancel your mobile phone contract, you can use Resolver to get in touch with your mobile provider.
If you've entered into a contract as part of a distance sale, you've got a 14-day "cooling-off" period to cancel without a fee.
A distance sale is one made either online, by mail order, or over the phone.
If you cancel within this period, your mobile provider has to refund any payments you've made.
If you have to send back any equipment, the trader cannot charge you a fee for accepting any returned goods.
I've been charged for a service I previously cancelled!
Contact your mobile provider via Resolver if you notice you've been billed for a service you have cancelled
If it's their mistake, you should ask for a refund.
Check your service agreement carefully, though.
There may be cancellation charges attached (which the new bill may represent).
For new accounts, some providers give you 28 days to cancel without incurring any charges.
Split-tariff contracts and credit rating
Certain providers (such as O2) offer split-tariff contracts.
These contracts are in two payments – one for your airtime and one for your handset.
The airtime payments are standard, but the handset payments count as paying back a loan!
That means that you are being provided with the handset as part of a credit agreement that will affect your credit rating
Always check the terms and conditions before signing up to a split-tariff contract.
If you find that you're missing handset repayments, this may harm your credit rating.
When you take out a contract in-store, you have 14 days to cancel your contract (starting the day after the sale).
Mobile contracts and credit checks
Since mobile companies are giving you a loan for your handset, they'll perform a credit check.
For more credit check information, see our credit score guide.
Data roaming
Data roaming lets you use the internet while abroad.
In many cases, data roaming can result in unexpectedly high bills.
Always check your network provider's data roaming rules before you travel abroad.
As of June 2017, data roaming charges within the EU have been dropped.
The rules mean that network providers charge the same rates for calls, texts and data in the EU as they would in the UK.
Variations will also occur where customers are on pay-as-you-go plans.
You will still be liable to extra charges if you go over your data allowance.</p<>
If you believe you've been unfairly charged for data usage, you should contact your mobile provider through Resolver.
---
Payment
Direct debit payments
Your operator isn't taking your direct debits on a regular basis? Inform them using Resolver as soon as possible.
You could be building up a series of arrears on your account. These could affect your credit rating.
I didn't receive my final bill. Does this mean I still have to pay?
Even if you haven't received your final bill, you will most likely still have to pay!
Contact your provider and check that they have the correct address registered for you.
Check your email account and spam box as well – they may have filtered out any relevant emails sent to you.
If you have any queries, Resolver can direct your questions to the relevant contact.
---
Lost, stolen or damaged phones
My mobile phone has been lost/stolen
If you're the victim of mobile phone theft, contact the police and get a crime reference number. You'll need this to make an insurance claim.
You should also contact your provider if your phone is lost or stolen. Get it 'blocked' as quickly as possible.
This is really important!
If someone uses your stolen phone to make long-distance calls, you'll be liable for the cost unless you've told your network provider!
Can you claim on your insurance?
You should contact your insurer immediately if you want to make a claim. Some companies have strict time limits in which you can start your claim.
Read your policy small print. There may be restrictions.
For example, if your phone was stolen from a vehicle, it would need to have been locked away out of sight. If it wasn't you might not be able to claim.
Some insurers refuse to pay out for theft if a phone is pick-pocketed while at a concert, for example.
Policies vary in their level of cover. Be aware that you may not be covered during the first 14 or 21 days of the policy. You might have to pay an excess on your claim – and this is often much higher for smartphones or iPhones.
Another option for claiming for loss of a phone is to check your home contents insurance policy, if you have one.
Some policies include items "away from the home".
If you make a claim this way, your contents insurance renewal premium may rise. You'll lose any no-claims bonus that you may have accrued.
Repairs
If your mobile provider offers to repair your broken handset, they might send it to a third-party contractor.
There have been numerous reports of some third-party repairs firms refusing to make repairs under warranty.
Firms may identify small faults that void the warranty.
They may claim that there has been impact damage, water damage, or minor damage to the screen as a result of your actions.
They'll then demand large sums (often in excess of £200) for repairs.
If you refuse this payment, the repair firm may send your phone back to you.
In this case, they may say that you've refused your right to the repair offered to you by your phone provider.
In theory, this could free them from further obligation to offer you a repair or refund!
We advise that you take time-stamped photos of your phone before you send it for repairs.
Make sure that you capture any visible faults or defects. This way you'll have proof that any damage happened either in transit or by the repair firm.
If the repair firm tries to treat you unfairly, contact your mobile provider.
Let them know about their contractor's behaviour. It is their responsibility to manage their contractors – not yours. Resolver will keep a log of any correspondence between you and your mobile provider.
If you are unhappy with your mobile provider's decision, you can contact an alternative dispute resolution scheme (ADR).
All mobile providers must belong to one of two ADR firms (CISAS or the Communications Ombudsman Services).
You may also be able to file a claim with Trading Standards.
Phone damaged during repairs
If you leave your phone for repairs, you should expect the repairs to be 'carried out to a reasonable degree of care and skill'.
This means that if you come back and find that the repairs have damaged your phone, you should expect it to be repaired with no cost to you.
Section 75
If you bought your phone up-front using your credit card (even if you only paid a deposit), you may be protected under Section 75 if anything goes wrong with it – check our Superpage for more details!
---
Poor coverage and reception
Bad mobile signal
You are entitled to expect your mobile service to be delivered to a reasonable quality. If you find that you keep losing your signal, you should keep a record of every outage.
You'll need it when you make a complaint. Your contract might stop you from holding a service provider responsible for loss of signal.
This is because there are things that can affect your signal that may be out of your provider's control.
If you've got no signal for an extended period of time, complain to your mobile provider.
You may be entitled to compensation.
At least, you'll have a chance to leave your contract without a cancellation fee.
Your mobile provider may wish to examine your handset. They'll check that you haven't damaged it in any way that may cause signal failure.
Interference during calls
Interference on your mobile line can be off-putting and spoil your calls. Try hanging up and re-dialling – this can sometimes help. Otherwise, you should get in touch with your mobile provider via Resolver.
Your mobile provider might be able to solve the issue over the phone. They may sometimes ask you to come into store to have an expert look at the phone.
Regardless, you should keep a log of your communications with the company!
Accounts and customer services
My account has been stolen
Account theft is a crime and therefore will be taken very seriously. A reason to suspect account theft might be extremely high bills. You should report the matter to your mobile provider and to the police immediately.
Your mobile provider will be able to advise you what to do next.
If money was taken from your account while your phone was stolen, contact your bank's fraud department.
They should be able to help out.
Mobile phone cloning
Cloning happens when criminals get certain key details from your phone.
They'll use this to make spoofed copies of your phone – and this could leave you out of pocket.
After cloning, mobile systems can't distinguish cloned phones from the legitimate one.
The legitimate phone user then gets billed for the cloned phone calls.
If there's a chance you've been a victim of cloning, take urgent action! You should contact your network provider and your insurer immediately.
Your network provider should be able to find out which calls are legitimate.
Check your policy carefully as you may have cover for unauthorised calls.
If you think the charges you face for a cloned phone are unfair, you should start a case via Resolver.
Who should I complain to?
Use Resolver to contact your mobile provider with any issues you may have.
If you aren't happy with their response, escalate your complaint to an alternative dispute resolution scheme (ADR).
All mobile providers must belong to one of two telecoms ADRs.
These are CISAS or the Communications Ombudsman Services. In some cases, it may be appropriate to direct your complaint to Ofcom.
My account is in credit
If your account is in credit or your provider owes you money, contact your mobile provider.
Some providers automatically credit your account (if, for example, you have terminated your account and are owed a rebate).
You should still double-check to make sure that you don't miss out on any money owed, just in case.
My phone hasn't been delivered
First, check if your retailer uses a delivery service. Delivery companies should leave a note if they've tried to deliver your phone while you were out.
You'll need to collect the phone from their local depot.
If not, it will be returned to the retailer after a specified period (usually 10 days).
A similar system applies to Royal Mail.
If there's no sign of a note, contact the mobile provider. They should advise you on what to do about the missing phone. It's their responsibility to resolve the issue. Until you've received the mobile, it's still the mobile company's responsibility.
If you're unhappy with your mobile provider's response, start a case via Resolver.
Poor customer service
If you find that your mobile provider has not provided adequate service in resolving your complaint, you should contact your mobile provider through Resolver – explain your issue clearly, as they may be unaware that they're providing a poor level of service.
How do I unlock my phone?
If your phone is locked to one provider, there are several options available for unlocking it.
First, you can visit a high street unlocking stand.
These are often found in markets, in key cutters or computer shops.
You can also search online for free unlock codes.
Warning – be careful to avoid any scams or harmful software.
If you're not comfortable with either of these options, ask your network provider to give you a code.
Helping you with Mobile phones services
You can raise issues with 35 companies in Mobile phones services
Key companies include:
---
Key companies include: